Volume 3 Issue 10 - February 2015
The New History of Mrs. Nebraska Website is Unveiled!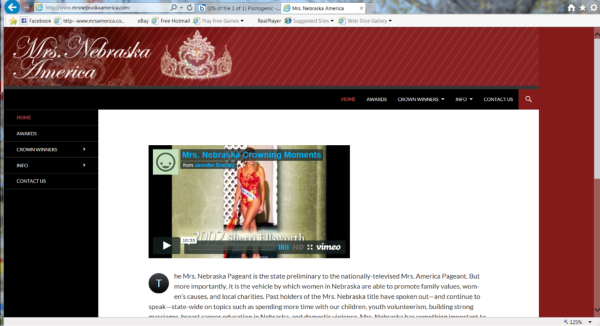 After 4 years of combing through and scanning hundreds of images from personal albums and viewing Mrs. Nebraska videos from the past 25 years, the Mrs. Nebraska History website has finally completed its reconstruction and major overhaul. The website address remains the same which is www.mrsnebraskaamerica.com! Several new categories have been added, updated, and revised to this history website such as awards, contestants, panel of judges from the past 37 years as well as our monthly newsletters.

A HUGE thank you goes to my dear friend Seth Burkey who uploaded every single image and did a total remake of this website, all on his own time (and at no charge) out of the kindness of his heart knowing how passionate I am about preserving the history of our tremendous legacy. Another big thank you goes out to Kevin from Dynamic Productions, Jennifer Bradley, and Jennifer Hart and several former Mrs. Nebraska titleholders for lending their various images and videos for me to use and compile my information from.

This historical website remake has been a labor of love that has been long overdue, as well as an awesome journey for me reliving the countless appearances with my Mrs. Nebraska sisters, and a wonderful reminder of just how special each of you are and for your contributions to Nebraska's married women and to our great state, by promoting various charities and causes that have affected so many lives! I hope you will treasure the memories of this website as much as I do! I am proud to be your Mrs. Nebraska Historian!
Terri Krolikowski

Birthdays and Anniversaries
Birthdays
• Andrea Stine - February 5th
• Erika Shelton - February 18th
Anniversaries
• Kim and Gale LeBorde - February 14th
• Kim and Bob Daniels - February 14th
• Kandis and Lee Friedenbach - February 26th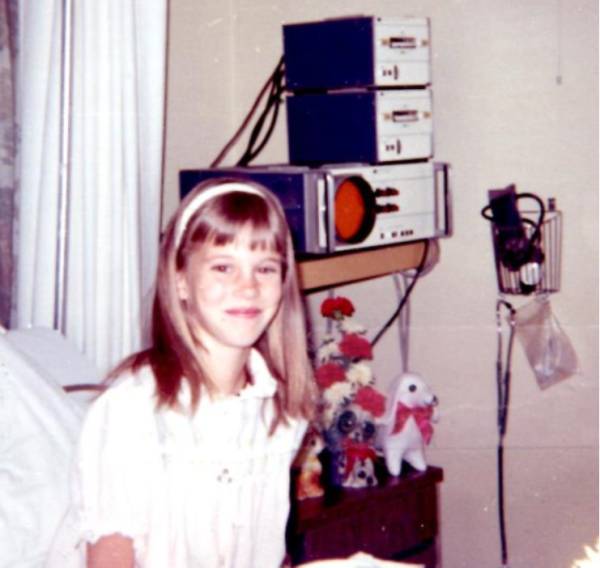 Matters of the Heart
February is National American Heart Association month! The American Association's mission is to raise awareness of the #1 killer in the United States. ..Heart disease! This disease not only affected me personally but also several of my family members. Here is my story!
From birth, I was a heart patient. In layman's terms my diagnosis was a hole in my heart the size of a 50 cent piece. Doctors hoped it would close on its own as I grew older, but it unfortunately that did not happen. June 29th 1969 is a date I will never forget! At the age of 10, I received a new lease on life, due to an amazing team of doctors and nurses, by undergoing open heart surgery to successfully repair the hole! "You have a clean bill of health" was music to my ears and answered payers for my parents from my cardiologist-Dr. Paul Mooring. In the 60's, a surgery of this magnitude was considered a very risky procedure, unlike today where you are in and out of the hospital within a couple of days. My hospital stay was two weeks at the University Medical Center in Omaha. Ironically, my oldest daughter is currently employed at UNMC in the ICU trauma and transport unit. I feel it is God's plan for her to be there.
Dr. Paul Mooring was my cardiologist back then and I will never forget the comment he made to me on my follow up visit after my surgery. His words were "we opened you up from your right side, instead of cutting you down the middle, because I have a feeling that someday you are going to be a beauty queen and I don't want you to feel self-conscious about having an ugly scar running down the middle of your chest!" Whether or not this was his "standard" comment to all of his young female patients, it made a huge impact on me. My hope, was always to reconnect with Dr. Mooring and show him my Mrs. Nebraska 1988 photo and to thank him for those awesome words, in addition to changing my life in so many ways!
In 2007, after several years of dealing with ongoing personal stresses within my family, which triggered substantial weight gain, I once again became a heart patient for a second time
diagnosed with atrial fibrillation and sleep apnea, requiring my heart to be shocked back into rhythm, followed up by taking several heart medications, monthly blood testing, and wearing a CPAP unit at night while sleeping. This was not how I planned to live out the rest of my life since I was just in my 40's. In 2011, I was introduced to a weight loss program through my sister-in-law losing 65 pounds in 6 months, and received my second clean bill of health. Too many times a person does not receive a second, or third, chance in life and I once again feel this was another huge blessing from God.
Since 2012, I have been taken off all medications and thus far have maintained a healthy weight and clean bill of health. I am even more passionate today about helping others transform their lives, and as a health coach assist those in their journey who are struggling to achieve healthy transformations. My cardiologist-Keith Miller continues to be very supportive of my goals to
maintain and a healthy lifestyle and I received a glowing report on my annual follow up visit on February 13, 2015. I feel giving back is not an obligation, but a responsibility! I have been given the ability to make a difference and that is exactly what I will continue to do!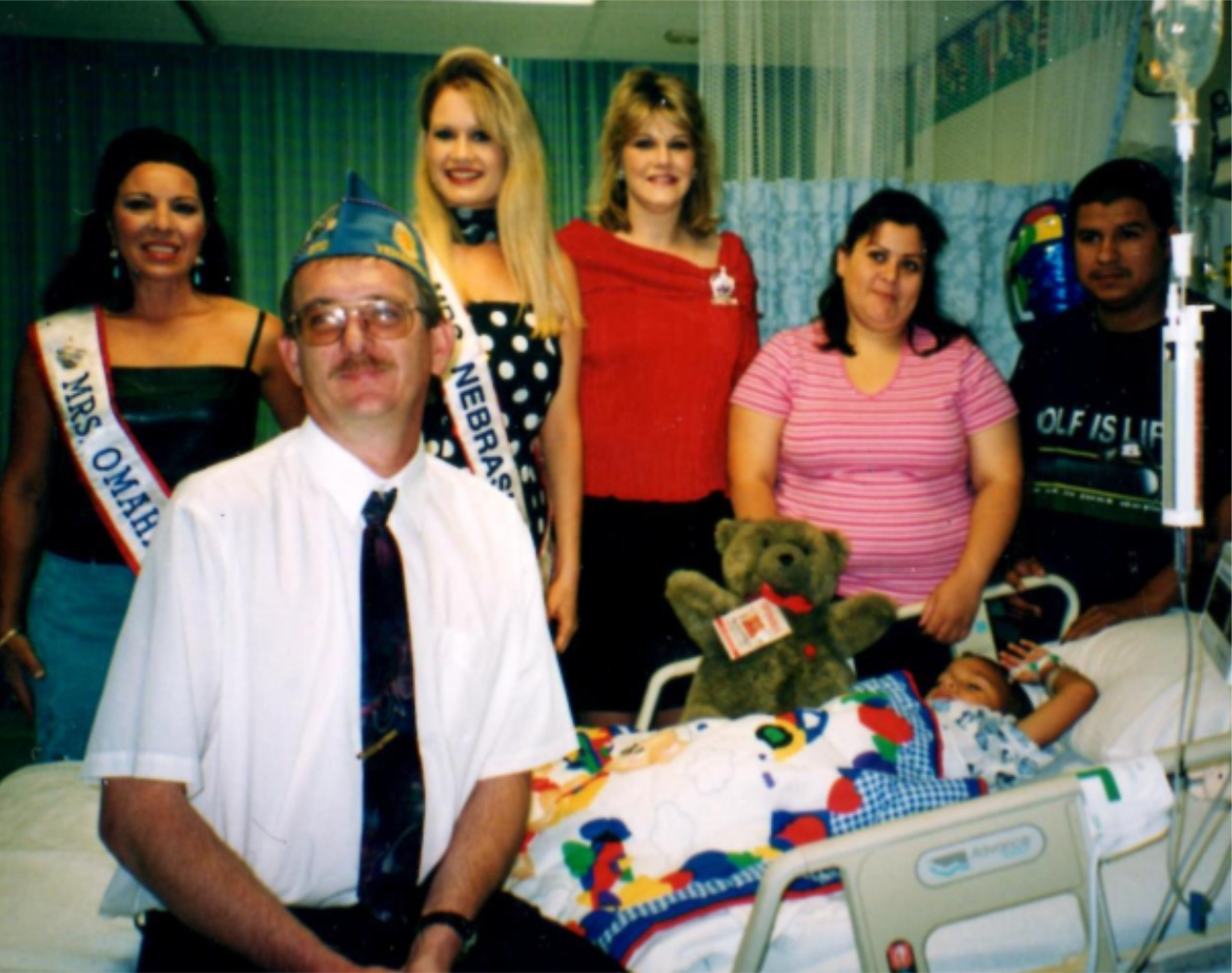 In early 2000, when the Mrs. Nebraska organization and the Sons of American Legion partnered together to present Spinoza bears to children at various hospitals, in the hope of easing fears of a hospital stay, little did I know then that "paying it forward" would again affect me so personally. Immediately after the birth of my second grandson, in 2006, he was life flighted to Children's Hospital due to a hole in his heart. This was another example of a miracle for our family! It is a natural calling for me to support and promote various charities such as the America Heart Association, Go Red for Women, America Heart Walks, children's hospitals as my way of saying thank you for all the blessings my family and I have been richly granted time and time again.
As titleholders, Mrs. Nebraska's all have one thing in common…our passion! It is our duty to raise awareness, solicit funding, and give back in a myriad of ways to the specific causes or charities that impact our life. Choosing a platform customarily is triggered by something that affects us personally. Two life lessons I have discovered by having heart disease is never take your health for granted, and if you do get a second chance in life, seize the opportunity to pay it forward and make a difference without hesitation. Today, I am a changed person because of my of past health issues. I know exactly how those sick children feel because I was once that scared little 10 year old heart patient who was not certain what her future would hold for her. So many people made a difference for me, due to their dedication and passion, and in some small way that is the least I can do for others.