Volume 2 Issue 9 - January 2014
2nd Annual Christmas Party
Mrs. Nebraskans go to the Greek Islands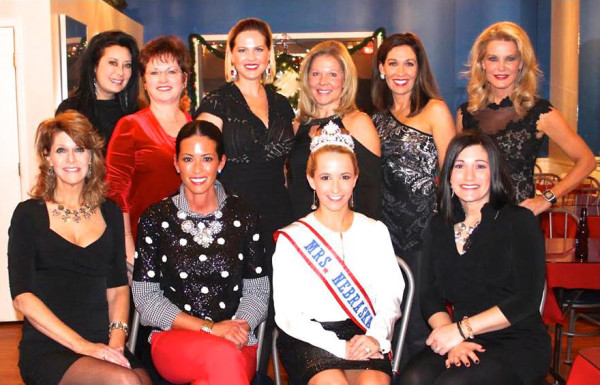 To celebrate the second annual Mrs. Nebraska Christmas party, titleholders and their husbands escaped to the Greek Islands......restaurant that is! Kandis Friedenbach served as this year's hostess. A new tradition set by Jen Bradley, is the most recent former, facilitates the Christmas party. Our reigning Mrs. Nebraska, Amanda Reinert (right), is holding the delicious cupcakes Kandis Friedenbach had a friend create in the shape of an evening gown complete with the Mrs. Nebraska sash, including stitching on the sash! Both titleholders and their husbands enjoyed delicious Greek food and if you never have experienced Greek food, you are truly missing out. Ten Mrs. Nebraska titleholders attended this year's event. They were: Terri Krolikowski - 1988, Jen Hart - 2009, Amanda Reinert - 2014, Kandis Friedenbach - 2013, Tosca Lee - 1996, Deb Badeer - 1984, Jen Bradley - 2006, Debbie Anstine - 1998, Nicole Panneton - 2010 and Kim Daniels - 2012. The night was filled with reminiscing about the past, catching up with one another's busy lives and enjoying a lovely date night out with our husbands. A big thanks goes out to Mark, our waiter, who treated us like royalty! It was a great evening had by all!!!

Birthdays & Anniversaries
Birthdays:
• Jan Wilcoxen - January 1st
• Rita Rocker - January 6th
• Kristie Lee - January 23rd
Anniversaries:
• Lisa & Mike Gennaro - January 19th

New Years Resolutions
New Year's resolutions or goals...how many of you make them? According to one statistic, only 40% of all Americans make New Year's resolutions. If you are one of the few who does happen to make resolutions, are they realistic, or attainable, and if so, what percent of those resolutions have you actually achieved? If you are one who cannot keep your resolutions you are definitely not alone. The University of Scranton research suggests that just 8% of all people ever achieve their New Year's resolutions. Typically, self-improvement is the #1 resolution made by Americans. Losing weight, eating healthier, spending less money and more time with friends and family were all close behind! As titleholders, it is our nature to be extremely goal oriented whether it is regarding our family, our careers, or causes that affect us in one manner or another. The top 10 New Year's resolutions for 2013 according to PolicyMic were:
1. Eat healthy & exercise regularly
2. Drink less
3. Learn something new
4. Quit smoking
5. Better balance between life and work
6. Volunteer
7. Save money
8. Get organized
9. Read more
10. Finish those around the house "to-do" lists
As 2014 approaches, our Mrs. Nebraska titleholders were asked "do you make a New Year's resolution?" Below is feedback given by several of our Mrs. Nebraska titleholders.
Susie - 1978
I made a resolution not to make any more resolutions! Seriously, I am not a big resolution maker, but this year I want to work even harder to keep Christ first in my life and learn to let go and turn all things over to Him.
Deb E. - 1982
I don't make a New Year's resolution.
Terri - 1988
Instead of making New Year's resolutions my husband and I have "a week in review" on Sunday nights to start our our week. We discuss what each of us has achieved the prior week, personally and professionally. We focus on keeping each other accountable and with positive affirmations, and feel it is important to be on the same page, working together as a team on our goals, because we are polar opposites. This helps us balance each other out quite nicely. I used to write down my New Year's resolutions, but it was too overwhelming and I rarely achieved what was written on my list. Week in Reviews are much more productive for me because they are short term. Besides as the years go by, I forget things more easily, like where I put my New Year's resolution list. LOL!
Kathleen-1991
As usual I am trying to get healthier. Each year I try to downsize. How
much stuff do we need right? I am also buying my 4th rental properties. What I am most
excited about is bringing an organization to bring service dogs to Nebraska. I was surprised
by how scattered the organizations are across the country. Also by how lax the rules to be
a service dog are. My education is coming from K9s for Warriors, Animal Behavior
Institute and NHS. I expect to launch to be in July. My dog (Cece) has been such a
help to me!
Tosca - 1996
Well, I suck at New Year's resolutions. But one cool thing that my Korean family always did that I've kind of adopted was that my grandfather, when he was alive, would present a family motto at New Year's. One year it was "let's live in style." Another, it was "let's live for others." Mine are a little less existential: one year mine was "Rage Against the Machine."
Debbie A. - 1998
Actually, Tosca and I get together most every year and share our New Year goals - physical, emotional and spiritual. It has been fun because we keep it simple and ask each other about progress throughout the year. One of mine 8 years ago was the 1/2 marathon which I checked off my list. Also, after first runner up, of course, was to return and win the crown, which I was fortunate to also complete. Another was more public speaking; so fortunate to have grown in this area. Spiritually, I've been blessed with guidance and fellowship to help me accomplish these goals also. I don't always accomplish each resolution, but I am a firm believer in setting these as a reflection of the past year and an awesome tradition to set the new year up with prioritization and purpose.
Peggy - 1999
If you need motivation for a New Year's resolution, here is my perspective on being the underdog and why not quitting has great rewards in and of itself. During cross country season in college, once a month we had to run hills. I dreaded it because they were steep, tough and I was naturally a sprinter. I wasn't the fastest on the team but I knew a team is only as tough as its weakest link. All I could offer was my est and never give up. At the end of the season, one of my coaches credited me, in-part, for the national championship we took home. She said they needed my speed for the short drills and my no quit attitude to drive the lead runners (who had more physical endurance) to dig for more. Yep...I'm "that girl" who usually is the underdog in all I do, but I'm the underdog with no quit! I'm not the most talented, gifted etc. but I'm willing to go the distance to see what the journey offers and what the finish line feels like. I've found; win, lose or draw - it's always worth it. If this coming year you have a goal, I would encourage you, that if in your power to finish. Do it - I never met someone who regretted their finish.
Olivia - 2003
I have never made a New Year's resolution; once I decide I'm going to do something I set my mind to it and get it done no matter what time of year.
Nicole - 2010
My New Year's resolution every year is usually the same thing. I want to do a better job with correspondence. Remembering and recognizing birthdays, special occasions and other special events in the lives of the people who are special to me. I think in the technology age we have gotten away from giving and receiving hand written notes and gifts, and I think they are important.
Amanda - 2014
New Year's resolutions are one of my favorite things to do! My husband and I make our resolutions together at the end of December. Then, every few months we go to dinner and touch base on how we are doing and making sure we are staying on track to be successful. We've already got our "check in" session for 2014 on the calendar. We go to dinner and sit and discuss our progress and what we are going to do to help keep each other on track. I don't always hit my goals but it's about staying on track and keeping each other accountable throughout the entire year.

According to research, the two main reasons New Year's resolutions fail are because
1. Goals are not kept simple
2. they are not tangible
Many people use the New Year as an opportunity to make large bucket lists or attempt extreme makeovers, whether personal or professional. The average person has so many competing priorities that this type of approach is doomed to failure. Essentially, shooting for the moon can be so psychologically daunting, you end up failing to launch in the first place. It is more sensible to set "small, attainable goals throughout the year, rather than a singular, overwhelming goal," according to psychologist Lynn Bufka. "Remember, it is not the extent of the change that matters, but rather the act of recognizing that lifestyle change is important and working toward it, one step at a time," Bufka adds. Setting ambitious resolutions can be fun and inspiring, but the difficulty in achieving them means that your elation can quickly give way to frustration. That's why goals should be bounded by rational, achievable metrics. Be specific. Don't say you're "going to start going to the gym" in 2014, set a clear ambition, like attending a weekly spin class or lifting weights every Tuesday or Thursday. "If you can't measure it, it's not a very good resolution because vague goals beget vague resolutions," says John Norcross of the University of Scranton. Happy New Year to each of you! I'm looking forward to a fabulous 2014 for our sisterhood.