Volume 3 Issue 7 - November 2014
15 Contestants Prepare to Compete for the 37th Annual Mrs. Nebraska America Pageant to be Held This Month!
On Sunday, October 12, the Scoular Ballroom in Omaha was abuzz with 14 very excited Mrs. Nebraska contestants. The day-long workshop included an overview of what to expect during pageant weekend, the scoring process, interview guidance, and wardrobe and make-up tips. Heather Edwards, Production Manager, guided the ladies through walking patterns and on-stage positioning. Joe Bohac and Billie Papuchis were on hand, representing the Black Swan who sourced the competition swimsuits for contestants and brought some extra bling to showcase some of the jewelry the Black Swan will carry. Joe also provided advice and tips for interview and on stage make-up. Directors Jennifer Bradley and Jen Hart provided the music selections for the pageant, and the ladies were able to practice using the actual music that will be played during the pageant. A salad buffet lunch was sponsored by The Scoular Company, as well as use of the Scoular Ballroom. This year the contestants range from age 22 to 60 years old. As in previous years, former Mrs. Nebraska's will be in attendance to support the pageant by sponsoring and presenting the following awards: Physical Fitness-Deb Gray, Evening Gown- Amanda Reinert, Interview-Susan Meyerle, Photogenic-Karalyn Hoefer, Patty Steele-Debbie Anstine, Congeniality-Deb Essex, Marriage Longevity-Deb Badeer, Entourage-Kim Daniels, Leadership-Terri Krolikowski, and People's Choice-Sherri Ellsworth. Tickets can be purchased by going to the Mrs. Nebraska website at www.mrsnebraska.net.

Birthdays and Anniversaries
Birthdays
• Joni Nathanson - November 10th
Anniversaries
• Bonnie and Howard Harrington - November 21st
On Saturday, October 11th Mrs. Nebraska 1987 Rita Rocker had a book signing at Parables on 112th & Dodge in Omaha from 12:00-2:00 p.m on her latest release Hope at the End efyour Rope.
Rita is pictured with Carmelita de la Guardia.
Mrs. Nebraska 2009-Jen Hart is pictured in the Fall Style Guide - How to Wear your Hair and What to Wear from our favorite Omaha style gurus! Statement http://www.fave4.com/blog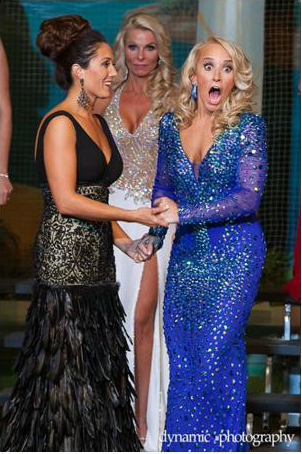 November 9 , 2013-a day I'll never forget. I promise you no one was more shocked than I, to hear the words that evening "And your new 2014 Mrs. Nebraska is ... .Amanda Reinert"! I think the look on my face said it all. I still get teary eyed and emotional each time I think back to that moment. The experiences, opportunities and memories this year has given me have been irreplaceable and I will carry them with me for the rest of my life.
After making over 55 appearances this year, I am humbled and privileged to have had the opportunity to experience each and every one of them. I was able to participate in multiple fashion shows, judge various pageants, volunteer at local fundraisers and awareness walRs, include my little mini-me daughter in parades, along with several other types of events. My most proud accomplishment is to have assisted the Nebraska Children's Home Society in hitting a record number of dollars raised to help fund their non-profit adoption and foster care agency in Omaha and throughout this incredible state in 2014 -and the year isn't over yet! Through Sand in the City, our Homegrown Event and local neighborhood events we not only set a record fundraising number, but also reached a record number of listeners in the state. I was able to share my families' story and the stories of so many Incredible families that I've had the opportunity to meet and worR with.
Another incredible highlight for me was of course, traveling to Tucson, Arizona to compete at Mrs. America. While I did not bring home the crown I brought back an immense sense of pride and a bond with 51 outstanding sisters. It was sincerely the experience of a lifetime and I was so honored to have the chance to represent the State of
Nebraska on that beautiful stage.
I owe so many people my thanks for helping to make this year so amazing -- I don't know where to begin! I'll start with my dream team of Robin and Joe! Joe, you have been my rock this year and became a friend I hold near and dear to my heart! Helping me replace my gown in the final hours before Mrs. America, going with me to my alteration appointments, blinging out my fabulous state costume jersey and football, motivating and building me up all year and of course, ensuring no one at Mrs. America had better make up than I did! Robin, you have been my friend, confidant, additional mother and of course the most incredible coach on the face of the earth. I love you to the moon and back and will forever be grateful for your friendship and all that you've taught me this year. To Jennifer Bradley, Jennifer Hart and Kim Daniels-wow-- you are certainly three dynamite women! I sincerely look up to all of you and cannot begin to thank you for your endless support this year. You guys did it all-finding my Mrs. America interview dress, lending me clothes for my trip to Tucson, sending flowers and inspirational texts while I was competing, lining me up with appearances for the year, and becoming lifelong friends I will treasure for the rest of my life. I cannot thank you enough for embracing me into the sisterhood with open arms. Oh, and those late night food tests at Mrs. America were lifesavers! Anna Peters, Adair Reese, Lindsey Cowell and Billie Papuchis, you have been an incredible support system in so many ways throughout this year. You guys rock and I love you all so much! To my predecessor Kandis Friedenbach, you are wonderful! Thank you for being in the audience cheering me on while I competed in Tucson. Your presence meant the world to me! Thank you for the countless lunches, phone calls, text messages and items you lent me. You are a "forever" friend.
To Heather Hooper, my Mrs. California -- Mrs. America wouldn't have been half of what it was without you and your wonderful husband. You are a friend for life and I'm 99% certain we are the some person. The memories and experiences we shared in Tucson are something I'll cherish forever! I can't wait to see the incredible things you will accomplish in your future. To the unbelievable sponsors that go into making this pageant a possibility: Dreams Med Spa, Vol Verde Dental, Seven Salon, Joe Bohac and his team, Carolyn Miller at Bling Studio, Robin Gifford at Springboard Modeling, Farrell's Extreme Bodyshaping, Hometown Bling and Crown Chic Boutique, you all are so generous and incredible. Thank you for donating your time and services and helping to make this program what It is today.
Finally to my family, I can say that I wouldn't be the woman I am today without the love and support you have given me over the years. Grandma, thank you for always being my lifeline and giving me that unconditional support you've given me my entire life! Rick, having you in the audience at Mrs. America meant the world to me. I'm eternally grateful for everything you've done for me and am so proud to call you my dad! Steve, I think it's pretty clear pageants aren't your thing, but you are always front and center in the audience cheering me on and there for a hug and some sarcastic comments when I need them most. I appreciate every single bit of it, Love you papa! Kaydee-my bug. You are my #1fan and every time I walk out on stage and see you in the audience it makes me smile that much more. You are such a star and I love you so much! My mama, oh boy I can't even figure out where to start with you but I'm pretty sure anyone who has ever crossed my path knows that you've had a profound impact on my life in every aspect and that I truly wouldn't have had this opportunity without your 21years of dedication and encouragement. You are THE BEST!!!! Lastly to my Mr. Nebraska, Brady, you have put up with so much this year-I don't think there are enough "thank yous" for that! Going to appearances with me, shopping with me and of course being there every time I step on that stage. I am so proud to say THAT'S my husband and to stand beside you as your wife. You are my best friend and I'm so honored to be your wife. Last but not least to my little mini-me in the audience, my nugget-mommy loves you so much! You are my inspiration and motivation behind everything I do!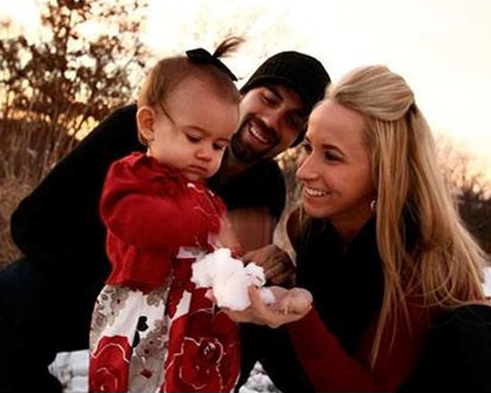 Thank you all for allowing me to represent you and this terrific state this past year. I am honored and humbled by the opportunity and hope I've made you all as proud as I have been to represent you. To all of the ladies competing this evening, you are now a port of something bigger than you, bigger than this night. It's a sisterhood that will last forever. It's a photo of you and your husband that will hang on your wall, it's that boost of confidence being able to say "I did that!", it's being a part of an organization that believes in married women and what we are capable of. To my successor, enjoy every single moment of it,even the moments that might not seem so glamorous. Enjoy it. This is your year to make a difference in your platform organization, in the community, with married women throughout the state and even in your own home. When you head to Mrs. America, be in the moment. That was truly the best experience of my life and I only pray that you get the same enjoyment and reward out of that opportunity that I did. There you will have the chance to do something that most women will never do. Be thankful, be grateful and be humble for this Is the opportunity of a lifetime.
For the last time, I am your 2014 Mrs.Nebraska America, Amanda Reinert.

2014 Making Strides Breast Cancer Walk in Lincoln