Volume 1 Issue 11 - March 2013
Mrs. Nebraska 1983 Goes to the Oscars and Walks the Red Carpet With the Stars!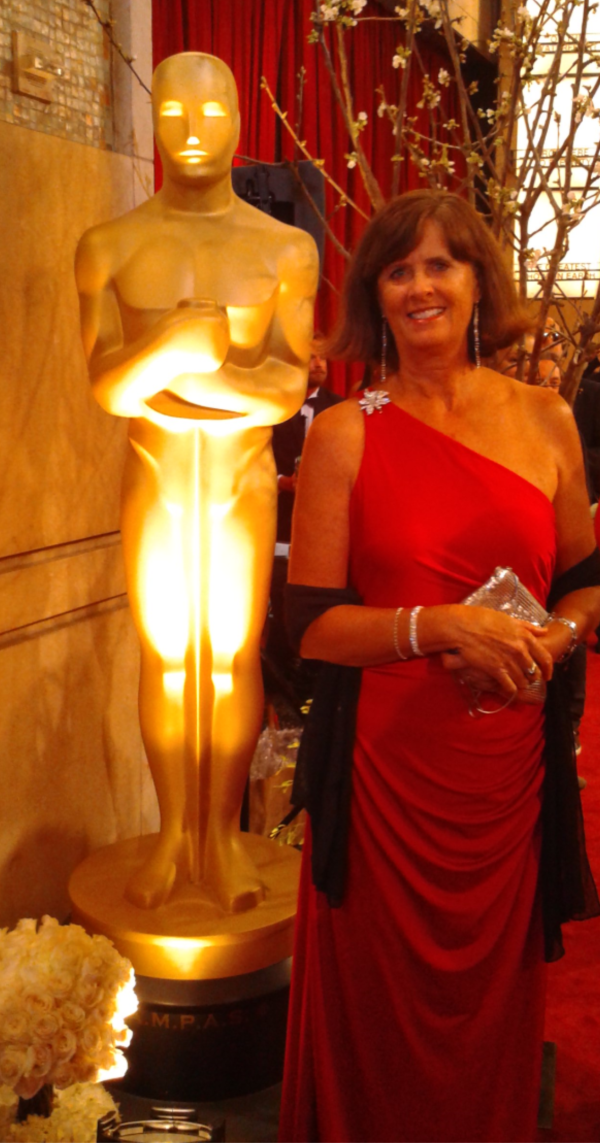 Hollywood, CA - Stunning, beautiful, amazing, and statuesque are all words describing one of our own Mrs. Nebraska sisters who had a once in a lifetime experience. On Sunday, February 24th, Deb Essex-Mrs. Nebraska 1983, attended the 85th annual Oscar Awards with her brother, Bill, and his partner, John. Security was extremely tight. Every limo was thoroughly searched and police were positioned on the top of every building that surrounded the theater. The limo driver dropped Nebraska's royalty, and her escort, off at the entrance of the Dolby Theater, where they had the distinct pleasure of walking the red carpet and mingling with some of Hollywood's finest royalty which included Hugh Jackman, Christopher Plummer, Dustin Hoffman, Halle Barry, Ann Hathaway, Melissa McCarthy and Selma Hayek.
Deb stayed loyal to the Cornhusker state by wearing a red, one shoulder, floor length gown that was fastened with a gorgeous silver broche, and wore silver dangle earrings and carried a silver bag. You are a timeless beauty Deb!
Deb's favorite gown of the evening was Halle Berry's black and silver gown. She thought most handsome man in person was Hugh Jackman and that Charlize Theron and Halle Berry were definitely the most beautiful women.
In the area of entertainment, Deb stated that "Jennifer Hudson and Barbara Streisand were amazing, but so were the casts from Chicago and Les Mis."
"It was an amazing show this year--- the gowns were so much more glamorous and exciting in person. Just to see all the stars up close and personal was something."
As Jennifer Garner was being interviewed on the red carpet, Deb was visible on TV (well, the back of her head was) in the background.
And this past Tuesday, Deb could be seen in the background as Tommy Lee Jones was being interviewed for Access Hollywood by Billy Bush!!
Deb's brother, Bill, works for the Academy and was instrumental in inviting Deb to attend this year's event. Deb says, "I'll definitely be talking about this for a long time to come."
Congratulations Deb! What a fabulous event for you and your brother to share together. You represented our Mrs. Nebraska sisterhood extremely well. Thank you for giving us a first hand account of your wonderful night at the Oscars!
Mrs. Nebraska 1996's Book Signing is a Huge Success
February 2nd-Barnes and Nobel Bookstore at South Pointe Mall in Lincoln was the site for the launch of Tosca Lee's new book release-Iscariot.
Pictured with Tosca from left to right are Susan Meyerle (Mrs. NE 2004), Sande Dirks, and Debbie Anstine (Mrs. NE 1998). Congratulations Tosca!
"The beauty of a woman is not in a facial mode but the true beauty in a woman is reflected in her soul. It is the caring that she lovingly gives the passion that she shows. The beauty of a woman grows with the passing years."
-Audrey Hepburn
Birthdays and Anniversaries
Birthdays
• Kim Daniels - March 1st
• Peggy Phillips - March 1st
• Ann Lacy Kerrey - March 7th
• Deb Gray - March 24th
• Susie Sochor - March 26th
• Michele Strom - March 28th
Anniversaries
• Deb and Dick Essex - March 27th

Titleholder of the Month - Sherri Ellsworth (2002)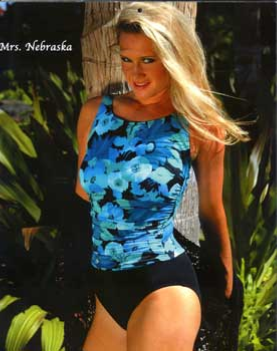 "Superstar" and "Elvis" are two words that immediately come to my mind when I think of this month's titleholder. The first time I met this 6' blonde bombshell was in 2001 when she was competing for the title of Mrs. Nebraska. Her contagious personality was larger than life and she was spirited and vivacious. In 2002, Sherri Ellsworth was fortunate enough to capture the Mrs. Nebraska crown. During her reign, her platform was on Breast Cancer Awareness. When she was a little girl she had a mentoring friend, through a church program. This friend was a young wife and mother that lived in Sherri's town. She was her "pal" from 1st through 6th grade. Even though Sherri grew up in a loving Christian home, her pal Donna was a wonderful influence in her life. She took Sherri to the movies and out for ice cream.
Being one of six children, it was a big treat for Sherri to have all the attention and her OWN tub of popcorn. Before Donna was 30 she was diagnosed with Breast Cancer. She spent many years trying different treatments and lost her hair many times. Cancer took Sherri's friend Donna, when she was just 46 years old.
As an adult, Sherri wanted to do something special to remember Donna. Donna was very quiet and loved to do things for other people in a silent, anonymous way. Sherri created a scholarship in her honor. This gift was given to students in 3 surrounding communities. Each student that applied for the scholarship was selected based on an essay they wrote about mentoring.
With the help of Tom Osborne, Sherri was able to raise enough money to fund the scholarship for seven years. It was a big accomplishment that Sherri is very proud of.
As Mrs. Nebraska 2002, Sherri found herself in beautiful Hawaii for the national pageant. She made many friends and to date still keeps in contact with several of them. The title also lead Sherri to many opportunities. She was chosen to model for Carol Wior's swimsuit calendar, and also modeled in New York for the Spiegel reality edition, receiving many acknowledgements and engagements to speak and share her story. "It has brought many amazing experiences to my life" Sherri says.
Since the crown, Sherri's life has changed quite a bit. She and her husband, Jeff, welcomed two daughters into their family. Jasmine is six and is in Kindergarten. Ella is three and is in pre-school. They both love to cheer, dance, and perform. They attend every game in cheer uniforms and with each time-out, they rush down to the floor and lead the crowd in a cheer. The girls have spent many hours watching their brothers play football and basketball, and have even been on TV, taken pictures with opposing cheer squads, cheered with the varsity squad, and are quite well known with the home crowd. It helps pass the time on Friday nights when the family sits through four hours of games.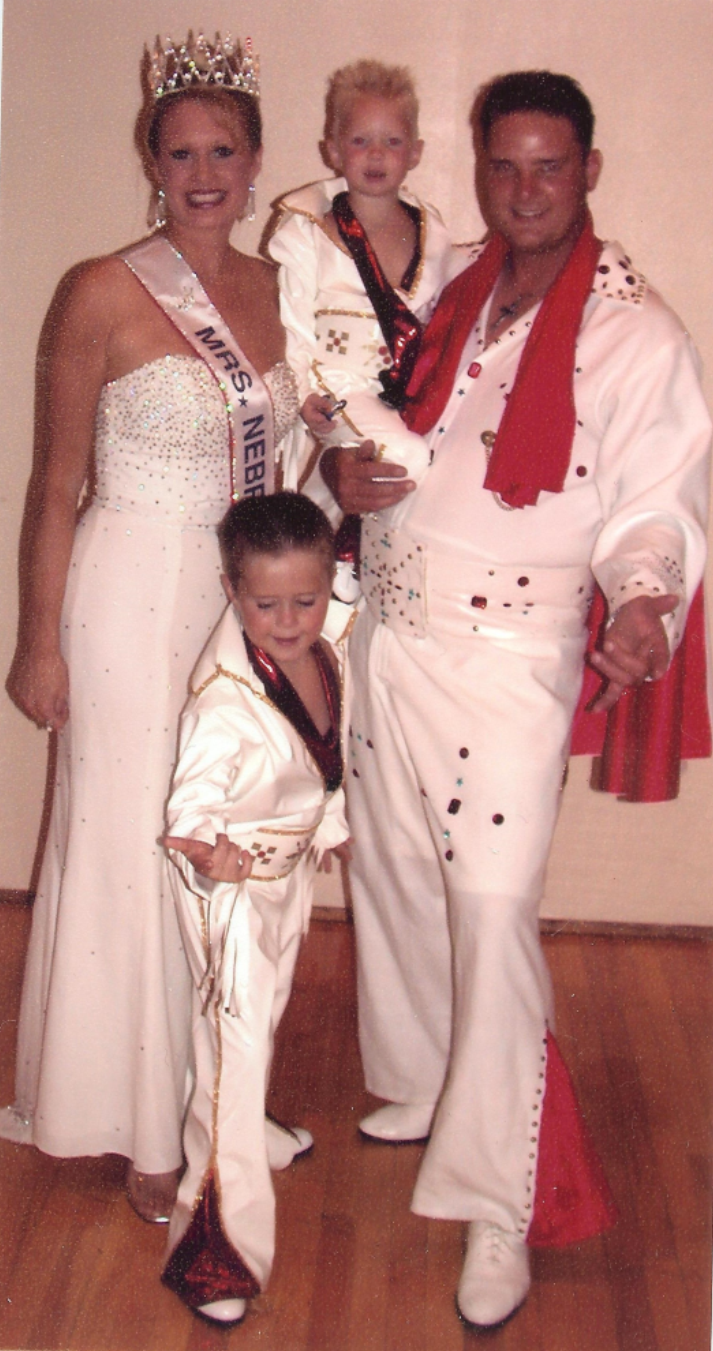 In 2002, when Sherri was Mrs. Nebraska her boys were 5 and 3. They enjoyed the crown as much as Sherri did. The loved the parades and fun events throughout the state. Fast forward to today, Christian is almost sixteen, is 6'3" and wears a size 17 shoe. He is a freshman at Northwest High school in Grand Island. He loves sports and is out for football, basketball and track. He was lucky enough this year to suit up for Varsity, both in football and basketball, and has had a very rewarding seasons in both sports. He is already looking forward to next year. Preston will be fourteen in April. He is a 7th grader this year. He also loves sports and seems to be following in big brother's footsteps. He plays football, basketball, wrestling and track. He also has had a successful year. He quarterbacked like big brother, and played lots of basketball for junior high and his travel team. He had a great wrestling season which stemmed from many wrestling matches on the living room floor. Sherri and Jeff have enjoyed the school year and all of its activities. It's been fun... but very BUSY.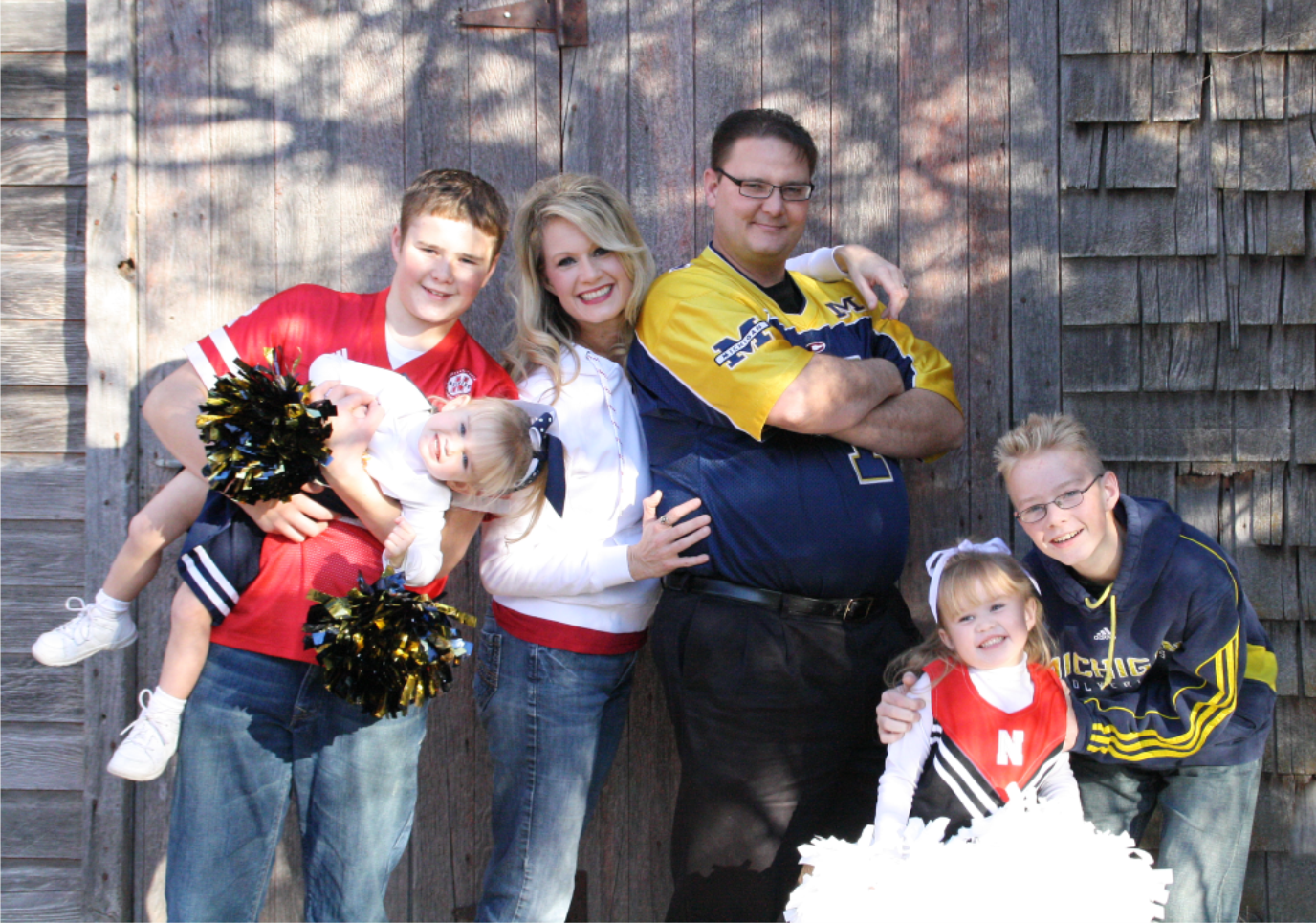 Sherri's husband, Jeff is an Elementary Principal for the Northwest School District. He recently received his own title and was named New Principal of the Year for the State of Nebraska. He credits his staff for the accomplishment, however it takes very special people to be in education.
Sherri is currently running a cheer/dance business. She has 112 students that participate in her recreational cheer program and have been able to perform their skills in front of many people. Some of their biggest stages have been the State Fair and the Nebraska Danger indoor football games. They also perform at nursing homes, community events, sporting events and parades.
This May, Jeff and Sherri will celebrate 20 years of marriage. "I really believe his support and encouragement along with my family helped me capture the crown. I am truly blessed and feel so thankful that I had the honor to be Mrs. Nebraska 2002."
Sherri also volunteered her time to the Mrs. Nebraska Pageant by being the Choreographer from 2003 through 2007. Today, she is still involved by coaching pageant contestants. Thank you Sherri for all that you do by continuing to speak out on Breast Cancer Awareness and giving of your time and talents through your gift of dance and balancing your family and all of their activities. You are a true "Superstar" and that is why we honor you as March Titleholder of the Month.