Volume 4 Issue 3 - July 2015
On June 13th, reigning Mrs. Nebraska-Erika Shelton held a silent auction and fundraiser party at Rosie's Bar in Lincoln. $3,225.00 was raised to help finance her way to Mrs. America. The date and location for the Mrs. America competition is still unknown at this time, but Erika receive word earlier that morning that the Mrs. America competition would not be taking place in the Ukraine as originally planned. Some of the big ticket items from the auction were:
• $250 worth of free sub sandwiches from Mr. Goodcents
• Eve Salon & Spa gift package
• The Venue gift basket
• Norland Pure personalized water bottles.
The event was well attended and included several of Erika's Mrs. Nebraska sisters; Jennifer Hart, Karalyn Hoefer, Susan Meyerle, Debbie Anstine and Terri Krolikowski. Erika's parents were also in attendance as well as 2016 Mrs. Nebraska contestants, Mrs. Nebraska staff, and numerous friends. Erika expresses, "thanks to all of the generous people and businesses that donated items for the silent auction, along with a "split the pot" raffle. The support that I have received from the Lincoln community has been outstanding! I'm so thankful to live in a place that is so generous and supportive. I also need to give a huge shout out to my husband, Jayme. Without his support and hard work, I would not be where I am today!"
Birthdays and Anniversaries
Birthdays
• Sherri Ellsworth - July 15th
• Deb Essex - July 16th
• Marcelle Broome - July 30th
Anniversaries
• Kristie and Mike Davis - July 31st
Items that were auctioned off for the Mrs. Nebraska Fundraiser on June 13, 2015.
What Will Be Your Legacy?
August is recognized as "What Will Be Your Legacy" month. It was founded by motivational speaker and novelist, Martha J. Ross-Rodgers, in honor of her mother.
It's very easy to live life simply going through the motions. What we need to do, on a regular basis, is to stop and take a look around at our surroundings. Think about what you want your legacy to be. After you have a good idea of what you want your legacy to be, think about what you have to do to make that legacy come true.
Consider the legacy that you have been left. Are they ones that you want to pass along to those around you? Consider the legacy that you are leaving. What values are you passing forward? Let those who are important in your life know about the impact they have had on you. Wouldn't it be great if we were all told these things while we could appreciate them, instead of waiting until they were summarized in our eulogy?
As Mrs. Nebraska titleholders, we have one thing in common within our legacies. Each of us has represented Nebraska's married women. What was achieved during our year of service, and beyond, varies based on platforms or causes we were passionate about. So the question was presented to our titleholders "What Would Be Your Legacy?" The following pages are responses from Mrs. Nebraska queens who chose to participate.
"We are all equal in the fact that we are all different. We are all the same in the fact that we will never be the same. We are united by the reality that all colors and all cultures are distinct & individual. We are harmonious in the reality that we are all held to this earth by the same gravity. We don't share blood, but we share the air that keeps us alive".
My legacy as Mrs. Nebraska 1978, is tied to my teaching. I have tried to instill positive character traits in my students, help them to develop a sense of pride in themselves, and to never settle for mediocrity. To become a kind, caring, and contributing member of society is something I taught and tried to model on a daily basis. As a parent, my goal was to let my children see God in me, and teach them how to walk in faith. To sum it up, I hope I have left a legacy of love and faith.
- Mrs. Nebraska 1978
As a wife, mother, grandmother, teacher, coach, model and Mrs. Nebraska 1983, I hoped to have to inspired women to excel in whatever endeavor they chose. In every aspect of my life, I've tried to instill confidence, to help others set and achieve goals and to be the best role model I could be. Our children and grandchildren are our legacy and hopefully by my behaviors, they are and will be successful and happy adults.
- Mrs. Nebraska 1983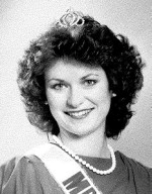 Since a legacy, by definition, is "something that someone has achieved that continues to exist after they die" it has been difficult to know what my "legacy" will be. I do know that a true legacy does not really consist of titles I have won, awards earned, or achievements listed. A true and lasting legacy should be more important and impactful than that. It should affect other people in deeply positive and lasting ways.
With that in mind, I "desire" to leave a legacy of encouraging and leading others to stand firm in the Christian faith. This desire has motivated me in my home education for 30 years and in the development of an Apologetics Club and Tournaments for students. My greatest joy would be to know that I had faithfully equipped those around me to grow and defend the Christian faith in a secular world. It is my hope and prayer that my children, grandchildren, and all the students I have had the privilege of teaching or coaching, will seek God's Word as the standard and foundation for all their choices. I pray that all my efforts in life will have pointed those around me to Christ as their Savior and loving Lord and that I may have modeled some of His attributes for them to follow. For, to lead others to heaven for eternity would be the greatest legacy that I could imagine.

- Mrs. Nebraska 1984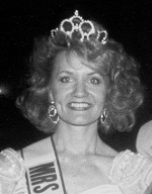 Rita Rocker, Mrs. Nebraska 1987, has a heart to help women stand strong in the midst of life's challenges. Using her experience and dedication to all the amazing women out there, she provides educational and inspirational programs in self-esteem, communications, professional image, etiquette, and career development. Her number one priority is to encourage women to see their value, beauty and strength no matter what has transpired in their lives.
Rita's reign was quite out of the ordinary because she spent much of her time with her husband who died from bone marrow cancer during her term, just 3 ½ months after the Mrs. America pageant. One month later she spoke at a large women's retreat where a few ladies came up to her afterwards, commented that her message was not what they had expected to hear, and thanked her for sharing. When asked what they presumed she would say, they thought it would be mostly about personal development and being Mrs. Nebraska. The ladies were quite surprised to hear, instead, a very heartfelt, transparent message about no matter what transpires in life, it is critical to hang on to God's hand, trust Him, get back up, dust your knees off, and get back in the race. Her recent book, "Hope at the End of Your Rope, Steps to Rebuild Your Life," is filled with inspiring stories and practical tips to help people do just that…rebuild their lives. It is never too late for a new beginning! We all have gifts, talents and the ability to kick our way out of any box we may believe we are in. Rita chooses to have a legacy of helping women find their wings, discover new keys to the kind of personal and professional growth that God has ordained for each one, and soar!
Rita is an international published author, national speaker and trainer with Transformation Academy, LLC. She is the author of Hope at the End of Your Rope: Steps to Rebuild Your Life and Guide to Marketing Yourself for Success. She is co-author of nine international books.
-Mrs. Nebraska 1987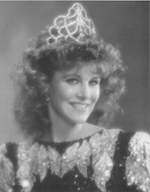 When one speaks of the legacy of Terri Krolikowski, I hope what comes to mind first, and foremost, is that I was a woman with an incredibly strong faith who led life with significant purpose.
Born with a heart defect, and undergoing open heart surgery at age 10, I learned at a very early age to live each day to its fullest, as it is a gift from God, and never to take anything for granted. I want my legacy to be that I led a happy fulfilled life, and was a moral, ethical, and positive example as a daughter, a wife, a mother, a grandmother, a friend, and throughout my various vocations. I also want to be remembered as a giver; that I utilized my time and talents to enlighten the lives of those I touched on a daily basis, and that through my example of perseverance, anything you set you mind to can be achieved. Most importantly, I hope my children and grandchildren have learned several valuable life lessons from me, and possess the same fundamental qualities and values that I acquired from my parents and grandparents; including integrity, strong work ethic, forgiveness, being respectful and honest, and maintaining a sense of humor, and in turn they pass these values on to our future generations.
A huge turning point for me when winning the title of Mrs. Nebraska America 1988, catapulted my goals and desires of "making a difference" within the various charities and causes I feel passionate about. Being able to give back in diverse capacities, as a TeamMate mentor, a Stephen Minister, an Educational/Career consultant, a motivational speaker, a health coach, an advocate, a facilitator, and a fundraiser illustrate ways in which I have paid it forward as well as expressing gratitude to the countless individuals who have impacted my life so profoundly.
- Mrs. Nebraska 1988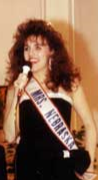 I've heard it said "if you are conscience at the time of your passing, you will think of two things; 1. Who Loved Me 2. Who Did I Love." That's it in a nutshell. God blessed me with a voice. I love to sing. I've been singing as a profession my whole life. I used to think that everyone who came to the show was happy, successful and that everything was pretty perfect in their lives. However, I learned that that is not the case. I learned that people may be there for a lot of reasons. Some people just need a getaway from their daily grind. They may be there working on their marriage. Hoping that a song that is performed might give a husband a good cause to reach over and take his wife's hand. There may be someone there who needs encouragement. I really can't say for sure what my Legacy is. I guess that's the "audience of my life's" decision to make. It's been said " The only Bible most people will ever read is YOUR life". I hope my life has been a reflection of what Christ would want me to be. I would hope I've made people smile. I would hope they found a friend in me. I would hope my life showed compassion. Again, I will never know the whole truth of how my life has touched someone or what impact I may have had. What imprint I've left on their heart. What I can say is through music I poured out my heart to make people feel and be loved. Most importantly I want my Legacy to be that my family was proud of me. That they know they are loved tremendously!
Of course I have to mention the Mrs. Nebraska Organization. I truly believe that being Mrs. Nebraska was a turning point in my life. I felt a real calling to get out there and share Hope and Love through music with that title...as much as I possibly could. What a blessing and opportunity it was! LEGACY is a very big and powerful word. I am truly blessed and humbled to be asked to share what mine would be. God has been good. I hope I've made HIM proud too.
- Mrs. Nebraska 1989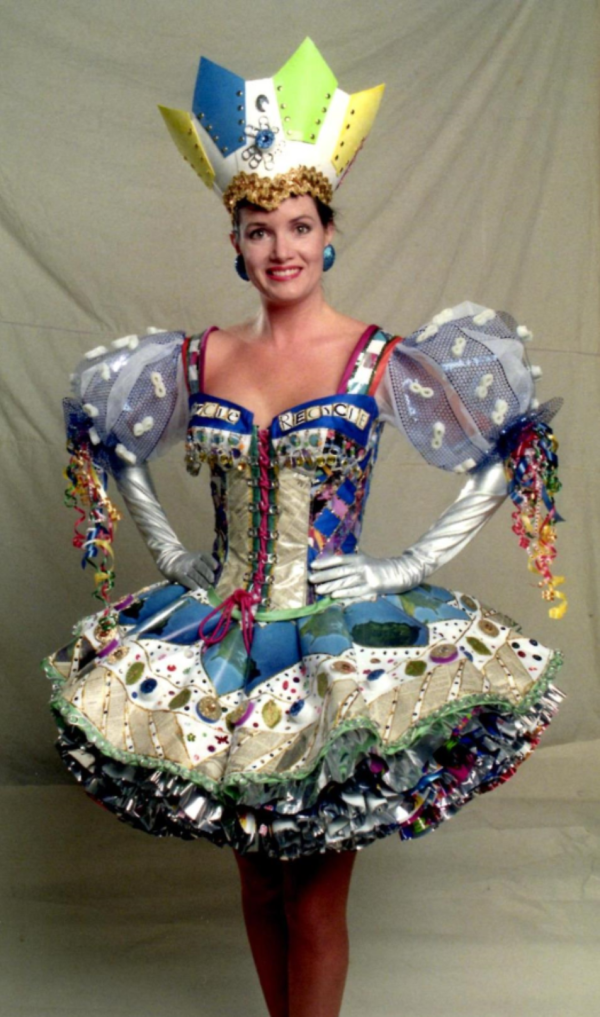 Kathleen Valentine was Mrs. Nebraska in 1991 and 1st runner-up to Mrs. America. Her reign was over 15 months long and in that time she made 237 appearances. Her favorites were the little towns like Wayne and Wilber.
Kathleen's platform was promoting ecology and the environment. Denise Ervin designed a fabulous dress made from re-used materials as her state costume. Remember this was at a time when we didn't have recycle bins as the norm. When signing autographs, Kathleen gave out bi-fold brochures with 10 top tips one could use everyday to Reduce, Reuse, Recycle in every home. (Now we even Upcycle!) This brochure was later given a University of Nebraska research team as inspiration for a state wide guide when a study was done to begin recycling programs in Nebraska.
Kathleen and her children spoke to the State Senate regarding the use of recycled paper. By using a tree made from Legos, then reassembling it into a flat sheet, Kathleen and her children were able to convince Governor Nelson to use recycled paper from that point on. The legacy is not only in the letters mailed from the state, but also in knowing that two little children and their mom can be heard! Every voice makes a difference!!!
Kathleen's children, Jakob and Sarah, were 8 and 5 years old at the time their mom competed for Mrs. Nebraska. They wanted her to win so that they could ride in parades. The first three weekends after the pageant, Kathleen's family participated in 4 parades. It seems like they were always in front or behind the rescue and fire trucks. LOUD!!! The temperature in their last parade was over 101 degrees. Kathleen put Jakob and Sarah's feet in an ice filled cooler! They have never watched a parade since!
Kathleen is proud to be part of the sisterhood of Mrs. Nebraska. She has friends and memories to last a lifetime!
- Mrs. Nebraska 1991
During my year as Mrs. Nebraska 1993, and throughout every year, I hope that I have made a difference in someone's life; that I have touched someone to show them just how special they are! And, to just be the best they can be, in all that they do. From the extraordinary people that I have met, to my friends and family, each and everyone is special and unique, and each have a special place in my heart. I would hope my legacy would be kindness, perseverance in one self, and the belief that they are truly special !
- Mrs. Nebraska 1993
My legacy I would like to leave is the power of "strength". As a mentor to my children, I want them to believe in themselves and know that the inner strength one can possess is so very powerful. Believe in who you are and to be good citizens of society.
- Mrs. Nebraska 1994
Tosca Lee's legacy is that she brought the past and the present alive to hear readers in a personal and meaningful new way. A bestselling author, her narratives have won the prestigious ECPA Gold Medallion for fiction, retailers awards, and praise from critics. But far more important are the lives touched by the readers who express that they have experienced God, the Bible, or meaning in their lives in a profound new way. The written word has always been important to Tosca for its ability to bless others and outlast its authors for generations to come.
Beyond writing, Tosca's personal legacy is her love for her husband (to-be!), Bryan, and their four children: Wynter, Kayl, Kole and Gage, who are the fulfillment of a dream she never realized she had until she met them.
- Mrs. Nebraska 1996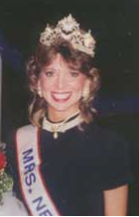 I was Mrs. Nebraska 1997. What was and is my legacy. My year was great, my love has always been for people, mainly women and young girls and trying and make a difference. I sat on the state legislation board for the Domestic Violence. A group of us changed the laws for Nebraska. It was a step forward, but we still have a way to go. I feel everyone of us has an ability to help people in any kind of capacity. I also spoke to young woman on self esteem. I feel that showing love to people, also showed my girls and foster daughters what life is about. We wake up every morning and we decide what is important to us. My legacy I hope is that after I am gone, that my family and friends say; "As a mom, and even a former Mrs. Nebraska, she was full of love and kindness". I don't think people will remember what I did for a living, how much money I made, what things I had. I think most people remember what type of person you are. I hope my Legacy is that I am remembered for raising kids that have learned what life is really about. I ask myself sometimes is why do I think we are put on this earth? The word "Love" is the most used word in the Bible. I think I am put on this earth to show the love that I have been given. That I hope is a legacy I have lived by and shown as a Mrs. Nebraska.
- Mrs. Nebraska 1997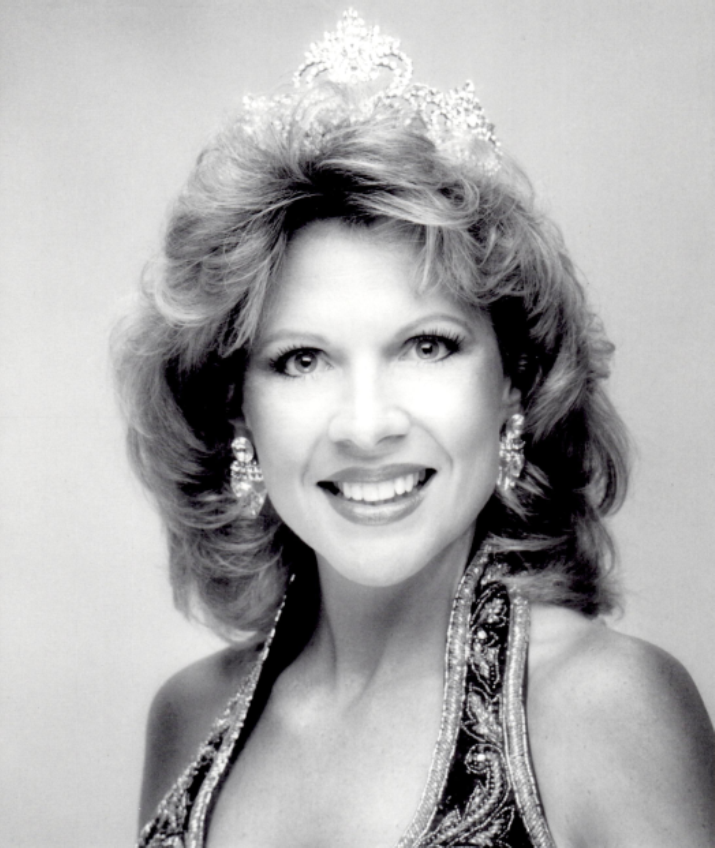 Debbie has held various consulting and executive roles with Gallup, Kenexa and IBM for over 30 years. She is currently an independent consultant involved in local and state-wide speaking and training activities. Her passion in the community is helping women achieve balance and fulfillment – personally, professionally, and spiritually – to become all they can be in life and in contributing to the growth and well-being of others.
Past community involvement have included March of Dimes, Junior Achievement, American Heart Association and currently she is working with Friendship Home in creating new pathways for support and sponsorship. Her family aspiration is to be a positive role model and leader for her children and grandchildren – impacting them spiritually and emotionally through faith, family, and values. She is proud of the nearly 35 years of marriage to Bill and believes marriage is a foundation of love, hard work and commitment.
The ultimate aspiration is to have lived a good life –deserving of the statement "well done good and faithful servant". I pray God is pleased in the way I have leveraged and used my strengths and talents to impact others and his world in positive ways.
- Mrs. Nebraska 1998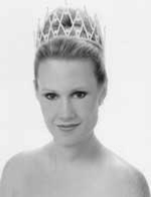 When I heard the words "Your new Mrs. Nebraska is…. Sherri Ellsworth", I had no idea how much that statement would impact my life. 2002 was an incredible year! I made friendships with several titleholders that I still visit with today. The Mrs. America organization provided a first class experience. I was thrilled to be selected for the Swimsuit Calendar by our swimsuit sponsor Carol Wior, and participated in the Carol Wior Swimsuit commercial when Mrs. America aired on TV. It was truly a once in a lifetime experience that is dear to my heart. During the year, my biggest accomplishment was the scholarship that I created which was named after a dear friend of mine who lost her battle to breast cancer. Donna Linder was an amazing mentor to me growing up. Our church offered a Tuesday night ministry called Pioneer Girls.
Through that program, we were paired with Christian ladies in our community and my "pal" was Donna. We did fun events together including roller skating, movies, and baking cookies. As a young girl with 5 siblings, I loved the individual attention. Donna was diagnosed with breast cancer when she was twenty-nine and lost her battle a few years before I won the crown. In her honor, I created a scholarship in her name based on mentoring. To create funds for this scholarship, I was privileged to work with Tom Osborne. Knowing he was a strong believer in mentors, through his Teammates program, he was quick to jump on our project. By the end of the evening we had collected over $7000.00. With these funds we were able to establish (3) $500 scholarships for 7 years. The rest of my reign was dedicated to speaking events, parades and many local events, in addition to spreading awareness of breast cancer and reminding women to schedule their annual mammograms.
One of the most unique honors I had after my reign was a chance to model for Spiegel catalog. My sister-in-law entered a contest, based on a friend that inspired you. She wrote about me and my quest for the crown. Little did I know the inspiration I had provided her with to reach her own goals. Professionally, I have created my own business and teach cheer and pom to girls in kindergarten to 6th grade. My goal is to give these young ladies self-esteem by performing in front of crowds. My program is recreational as well as an opportunity for little girls to participate in community and statewide events.
Personally, I have been married to my college sweetheart, Jeff, for the past 22 years and we have four children: Christian, Preston Jasmine, and Ella. I love being a mom and this year will have all four children in school. I am looking forward to it with bittersweet emotion, as my oldest prepares to graduate and my youngest attends school for the first time. In conclusion, I have enjoyed the honor of being Mrs. Nebraska 2002. It has changed my life in so many positive ways. I like the person I became with the title, and was a woman who could do anything.
- Mrs. Nebraska 2002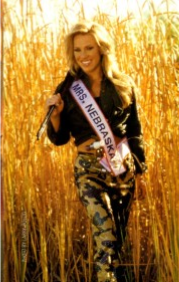 The legacy of Olivia Nalos Opre is that she was a path paver for women in the hunting industry. Olivia's greatest passion is to educate the public about the important role hunters' play as stewards of nature. Because of her sincere appreciation for wildlife, and enthusiasm to help promote conservation, she is involved in the hunting industry in many capacities. Alongside her husband Tom, Olivia is also the co-host of 'Eye of The Hunter', she has an on-line hunting blog for NBC Sports, is a full-time hunting consultant for Jack Brittingham's World of Hunting Adventure and is an active measurer for Boone & Crockett, Pope & Young, Rowland Ward, and a Master Measurer Instructor for SCI. Through these outlets she is able to reach the masses to help preserve our great outdoor hunting heritage.
As 2003 Mrs. Nebraska America, Olivia's platform was to promote the importance of hunters as conservationists, humanitarians and stewards of renewable wildlife resources. With such a controversial platform she understood that criticism and adverse reaction would result, but remained eager to provide factual insight on a topic where the truth is often distorted.
But she's more stalk than talk, she is a serious huntress, hunting big game & dangerous game in countries such as: Benin, Cameroon, Ethiopia, Mozambique, Namibia, South Africa, Tanzania, Zimbabwe, Argentina, Mongolia, France, Spain, Romania, New Zealand, Mexico, Canada, and throughout the United States. She has hunted species from red stag to Cape buffalo and many animals in between. Needless to say, Olivia has been there and done that, yet considers herself fortunate to help others achieve their hunting ambitions. Subsequently, Safari Club International named her the 2014 Diana Award winner—the most prestigious accomplishment bestowed upon a huntress.
- Mrs. Nebraska 2003
I became a counselor because I wanted to make a difference in people's lives. I competed for Mrs. Nebraska to reach more people and make a greater impact. Throughout my life I have been incredibly blessed to have others show up when I needed them most. God is amazing with His plan for us! Every day I pray that God will use me however He needs me and that His light in me will shine through to others. My life's ambition is to leave the world a little better whether that's being uplifting and encouraging to someone in need, celebrating someone else's success, or making someone laugh. Namaste. (Or perhaps I should conclude with...Namascray - the crazy in me honors the crazy in you!)
- Mrs. Nebraska 2004
I would like to leave a lasting legacy that reminds people to "do your best and forget the rest". This has been our family motto for as long as I can remember, and it has served us well in all types of situations. My hope would be that I am remembered as a person who was known for enjoying life and cherishing every day I was able to spend with my family. And, for impacting every person I had the pleasure of meeting in a positive way, and inspiring all to live a life that has meaning for them. Lastly, for motivating my friends, kids, family and colleagues to be the best they can be. Compassion, integrity and morals are three words I want people to think of when they remember me.
- Mrs. Nebraska 2006
I think back to when I was running for Mrs. Nebraska and how much I thought about answering the "Legacy" question. How did I want my family and friends to remember me? I figured it out that year during interview and my on stage question. One of my judges, Tricia Dampier, liked my answer so much she quoted me in her book, "Some of my Best Friends are Beauty Queens". Success is defined by how you handle your disappointments. This is not only true in the pageant world but, a good motto to live by everyday. There will always be pageants/games you don't win, teams you don't make, and people that want to see you fail but, I teach my children you never give up one something that is important to you. Embrace and learn from your failures and become a better person for that experience.
- Mrs. Nebraska 2009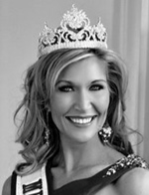 My legacy is simply THIS…Trust, Honesty, Integrity, and Service. It is what my personal relationships are based on and this is also my business motto. (Yep..it's even in my logo!) You have to have trust in any relationship…and trust is based on honesty. Sometimes being honest can be uncomfortable. Sometimes people don't want to hear the truth. Sometimes people will judge you when you speak your truth.
But, honesty is always the best policy. Trust and honesty also are the basis for one's integrity. It is important to be a person of integrity. Do not compromise your morals and ethics to receive someone's approval. If people can't accept you for who you are, then they are not a true friend.
And finally, Service. I believe we all have a duty and obligation to give back to each other and our communities. When we give of ourselves we get so much in return…give freely and give often. You will make the world a better place by sprinkling your sparkle wherever you go! Karalyn Hoefer, Mrs. Nebraska 2011
- Mrs. Nebraska 2011
I hope that my legacy will be one of having been a conduit for the greater good. I have been blessed to be able to connect people with resources, effecting a change that is far greater than anything I could do on my own power. It is exhilarating to be able to tell a person or an agency that they will be receiving a gift, whether financial, material, or in human services to meet a need. I also hope that my legacy will be that I was a kind and compassionate woman who cared deeply about her husband, family, friends and coworkers.
- Mrs. Nebraska 2012