Volume 4 Issue 10 - February 2016
February Celebrates Love and Marriage
The month of February commemorates love and Valentine's Day! As titleholders we represent the gift of marriage as "Mrs." Nebraska's! Marriage takes work every single day and it is not always easy. It requires a lot of forgiveness (as no one is perfect) and serves as the foundation for healthy families and relationships. It involves acceptance of one another's strengths and weaknesses and in order for marriage to succeed, God must be the center of your union. Love is not just a feeling; in marriage it must be "unconditional" for better or worse, in good times and bad, in sickness and health, to love and cherish, for richer or poorer, till death do us part!
Wikipedia defines marriage as matrimony or wedlock, is a socially or ritually recognized union or legal contract between spouses that establishes rights and obligations between them, between them and their children, and between them and their in-laws.
To commemorate February's newsletter of "love and marriage" our titleholders were asked to share something they loved about their husband, or loved about being married, along with their wedding photo. It is evident from our titleholders responses that there are several common key factors in possessing long, happy and successful marriages. Some of these include:
1. Being best friends
2. Having fun together, laughing and enjoying each others company
3. Accepting your mate exactly as he or she is
4. Mutual respect
5. Admiration and devotion to one another
6. Communicating positive feelings regularly
7. Commitment to marriage and family
8. Forgiveness
9. Being understanding
10. Team work

Birthdays and Anniversaries
Birthdays
• Andrea Stine - February 5th
• Erika Shelton - February 18th
Anniversaries
• Kim and Gale LaBorde - February 14th
• Kim and Bob Daniels - February 14th
• Kandis and Lee Friedenbach - February 26th
1978-Susie and Dave Sochor's anniversary is August 6th.
"Who would have thought 43 years could go by so quickly! I guess it's true that time flies when you are having fun! Together we managed to raise two amazing kids who have given us the greatest gift....grandkids. And like the song says..." You're Still the One"!
1983-Deb and Dick Essex's anniversary is March 27th.
"My song quote is just how Dick and I feel about our love."
1984-Deb and Dan Badeer's anniversary is October 15th. (1977)
"There are many things I love about Dan. I have always admired his honesty and integrity, his love for the Word of God and strong commitment to living his faith at work and in his home. He is not only a faithful lover and provider, but is also my closest friend in times of need. After 38 years of marriage, we are still learning about one another and growing closer as a couple. It is my joy and privilege to travel through this life as his bride."
1985-Marcelle and John Broome's anniversary is December 29th.
"What makes my handsome husband stand out is his loving personality…a day does not go by that he does not tell me how much he loves me. If I have a bad day, I usually have a dozen roses and a candle waiting for me when I get in. John is one in a billion. I was blessed the day I met him and he came into my life. We just celebrated our 14th anniversary on Dec. 29th…..the years just keep getting better."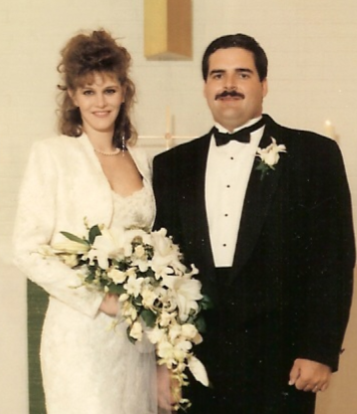 1988-Terri and Gerry Krolikowski's anniversary is September 14th.
"When I married my Polish Prince 25 years ago I honestly won the lottery! Not only did I marry a strong yet sensitive guy, which stems from the firm foundation and deep faith of his family, I was given the gift of an amazing mother and father-in-law who loved me unconditionally and treated me as one of their own! In addition, I inherited 2 brothers and 5 sisters who all have this indescribable bond, and care deeply, for one another. This family is GENUINE, the real deal, and is one of the most loving and compassionate families I have ever been blessed to know...and be a part of. We are all very close with one another, and our family time together consists of love, laughter and lots of encouragement! There is no drama, competition, or favoritism; instead there is deep admiration, mutual respect, and support! By being a member of this incredible family it definitely has made me a much better woman! Likewise I love Gerry's dedication to our own family which is of upmost importance to him and I thank God every day that He has blessed me with this man I proudly call my husband! One final thing I love about my hubby is that he wears a uniform and carries a gun!"
1989-Joni and Steve Nathanson's anniversary is July 5th.
"Steve is my best friend. He amazes me with his love for life and for others. He's the most generous and kind man I know." I'm a blessed gal!"
1993-Kim and Gale LaBorde's anniversary is February 14th!
"Valentine's Day will mark 26 years of marriage to my husband! Together we've raised 4 children and are more in love with each other every day! Our marriage and family has always been our 1st priority! A few things that keep us connected are that daily we send each other texts or call just to say I love you, I miss you, or thinking of you! We listen, care, and are there for each other and are both 100% committed to our marriage. One unique thing is that we got married on the day his parents got married and at the place my parents got married, so of course it was the best " : )
1994-Melanie and Mike Gutzmer's anniversary is August 11th.
"Mike and I had a private wedding with our girls in Florida so we don't have a wedding picture. Just think about the meaning of the words in our wedding vows—"for better or for worse . . . in plenty and in want . . . in joy and in sorrow . . .in sickness and in health . . . as long as we both shall live." What a commitment we make in that moment of time, with "God and these witnesses" listening! Are these just empty words of tradition, or do they represent a genuine promise of commitment? The longevity and quality of your marriage depends upon it! Over the last couple of years, our marriage has been stressed due to health related issues. However, what we found in our marriage is a true commitment of love for one another. For once, time stood still for a while-this allowed us to concentrate on one another and appreciate the gifts of family, and our life in general. We remembered why we fell in love in the first place—love of friendship and companionship. I love you Mike!!"
Over the last couple of years, our marriage has been stressed due to health related issues. However, what we found in our marriage is a true commitment of love for one another. For once, time stood still for a while-this allowed us to concentrate on one another and appreciate the gifts of family, and our life in general. We remembered why we fell in love in the first place—love of friendship and companionship.
I love you Mike!!
1995– Cheryl and Steve Dickey's anniversary is June 27th.
"This wonderful man Joel Steven Dickey, that married me almost 41 years ago continues to give of himself unselfishly! I pray my best friend and I share another 40 years together!"
1996-Tosca and Brian Ritthaler's wedding day was January 22, 2016.
"What I love about Bryan: everything. He's a protector, nurturer, a good father, man of integrity with so much love to give. And... he can cook."
1997-Lisa and Mike Gennaro's anniversary is January 19th (1991)!
"My husband and I have been married 25 years. It wasn't one of those weddings that was a fairytale wedding, with a white dress and a lot of friends and family. It wasn't because we didn't want that, it just wasn't in our cards. My husband Mike was in the military when we first met and with that comes a lot of, "I can't tell you where I am at." Gone a lot, and deployed a lot with the first Gulf War, we just decided to have our pastor marry us at our house, with a best man and maid of honor, and very few people.
We said our, I do's, and do not have many photos to show for it. But with that being said, he is my best friend and it goes to say that it isn't the big bash for a wedding that counts, but the sincerity of it all.
We have two beautiful girls to show for it and both have made us so proud.
Isn't that what it is really about? A family and love."
1998-Debbie and Bill Anstine's anniversary is May 2nd.
"Bill and I met in Loveland Colorado and eventually married there. I was drawn to his good looks, humor, and protective nature. He is truly my Knight in Shining Armor that arrived in my life just when I needed one. We will celebrate 35 years of marriage this May and I am the luckiest lady alive for having captured his heart and shared his life and our family. Love my Wild Bill!!
(This is his nickname at our lake hang out in Table Rock) and our boat is also named Wild Bill if that's an indication of his fun nature."
2001-Deb and Scott Gray's anniversary is May 13th.
"I love our marriage because it's foundation and center are with God. We both respect, appreciate and love each other."
2002-Sherri and Jeff Ellsworth's anniversary is April 29th.
"After 23 years, Jeff still makes me laugh and when we get a moment to ourselves still have fun together."
2003-Olivia and Tom Opre's anniversary is October 12th (2012)
"Tom and I were married in Victoria Falls Zimbabwe. We married at the actual falls but shortly after, rode an elephant to celebrate our union. CERTAINLY unforgettable! I love how much he loves me and adores me; when I'm mad at him he says how amazing I am and how his life is complete because I'm in it. He is the most patient, caring husband & father and super hot! I AM beyond blessed to have found him - I didn't think men like him existed!"
2005-Sharon and Saul Soltero's anniversary is October 6th.
2006-Jennifer and Darrin Bradley's anniversary is May 20th.
"What I love about my husband is his sense of humor, the way he adores our daughter and how he is teaching our boys to be outstanding young men."
2009-Jennifer and Greg Hart's anniversary is August 1st.
2010-Nicole and Mark Panneton's anniversary is May 26th.
2011– Karalyn and Brian Hoefer's anniversary is June 23rd (1991).
"What do I love about married life? We have built a solid foundation and have been blessed with 25 years of marriage. We have 2 beautiful, smart daughters who make us proud and that we thoroughly enjoy. My husband is my I greatest supporter and there is nothing we wouldn't do for each other. We love living our life together and look forward to the next 25 years!"
2012-Kim and Bob Daniels' anniversary is February 14th.
"One thing I love about being married to Bob is that he makes me laugh and tells me he loves me every single day. I have come to treasure those gestures more and more as the years fly by. I can always count on Bob to share his sense of humor, no matter the situation! Our wedding anniversary is February 14th, so February is an extra special month for us."
2013-Kandis and Lee Friedenbach's anniversary is February 26th.
"One thing I love about my husband is that he is my best friend! We make such a good team. We laugh together, support each other, help each other and always have fun together."
2014– Amanda and Brady Reinert's anniversary is March 26th!
"My husband and I got married relatively young (I was 23, he was 24) and the opportunity to grow and learn together has been really exciting. We've made mistakes together, learned together, experienced life's growing pains together and really grown closer and closer through all of it. Having my best friend by my side as we "grow up" is the best gift I could ask for. We are coming up on our 5 year wedding anniversary in March and it makes me that much more excited for the next 5!"
2015– Erika and Jayme Shelton's anniversary is November 24th.
"Marrying Jayme was the best decision I ever made. My life has been full of laughter and love because of him. I can't imagine a better father for our children or a better spouse for me. We challenge each other and support one another to the fullest. We truly have a blessed life together!"