Mrs. Nebraska 1961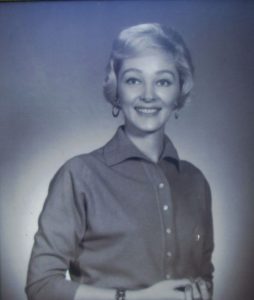 Joan McManus – Omaha, NE
Joan was named Mrs. Nebraska of 1961, and she nearly won the Mrs. America title in Fort Lauderdale, Florida. She was multi-talented, and news articles said she looked like actress Kim Novak. Joan grew up first in South Omaha, but in the 1940s her family moved to the prosperous Fairacres neighborhood. Her father, George Vana, co-owned a lumber company, and the handsome frame home, amid many brick houses, befitted the family of a lumber man. Joan Vana, who played piano, graduated from Duchesne Academy and  Duchesne College. Her 1948 engagement and marriage to Hubert "Bert" McManus merited society treatment in The World-Herald.
Their family quickly grew, and Joan's Mrs. Nebraska title at 35 added excitement. It was a different era, and categories had included shirt-ironing, baking and sewing, as well as essay-writing. At the Mrs. America competition, where she had the most kids (nine at the time), she won two "homemaking" events, hairstyle and picnic basket packing. Emcee Johnny Olsen, a national TV-radio announcer and game show host, asked her to name her children, and she proudly did so. In a sign of the times, a Fort Lauderdale paper said of Joan: "The big audience at War Memorial Auditorium last night showed its approval by giving a big round of applause to the mom who has retained beauty-contest dimensions." After the two preliminary first-place awards, a Miami News headline said Mrs. Nebraska "Leads the Lovelies." Daughter Laura said organizers privately told her mother that the Mrs. America title essentially was hers, but she replied that with nine kids, she couldn't do the required traveling. She didn't win, and happily returned home.
The World-Herald's Sunday magazine ran a spread on Joan and her family, saying, "There's never a dull moment at any time at the McManus home." Said Joan: "A house is not a home without children." In Omaha, she ran a lively household in the Westgate neighborhood, where her 10 children came and went and often invited friends over.
On the fridge, she posted her 11 Commandments, such as: "Thou shalt not lend thy clothes to thy neighbor. … Thou shalt not have phone calls after 10 p.m." The house got noisy, but she'd often say at the end of the day, "As long as I can count 10 heads, I'll be all right."