Mrs. Nebraska 1966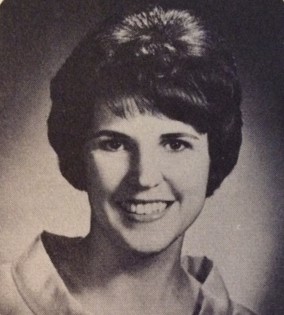 Angeline M. Sudyka – Omaha, NE
Angeline (or An.) Sudyka first competed for the title of Mrs. Nebraska in 1956, under the old format. After an unsuccessful attempt, she tried again in 1966. The second time she competed, the competition was different and consisted of written entries and she was crowned Mrs. Nebraska 1966 from her written answers. She was 33 years old and lived in Omaha with her husband-Edward and six children when she won the title.  "My favorite part of being Mrs. Nebraska was traveling across the entire state meeting all of the wonderful people and honorable dignitaries along the way.  My platform was "See Nebraska First" where we toured the entire State of Nebraska together as a family. My husband- Edward, and our six children ranging from ages 11 to 2 ½ years old enjoyed traveling with me very much."
A month after being crowned Mrs. Nebraska, An. competed for the title of Mrs. America in San Diego CA from April 29th through May 8th. The areas of competition included: 1. Vacation competition where the titleholder and her husband planned a vacation together. 2. Money Management competition where the titleholders were tested on how they spent their husband's money, and why? "This event was a back-to-school feeling."  3. Laundry competition where fifteen contestants at a time had a washer, dryer, ironing board, and iron and competed in front of an audience. "The judges watched very closely during the entire event, looking for wrinkles and neatness in the long sleeve, white shirt we were ironing. Believe it or not, I enjoyed this event." 4. Homemakers Forum competition where questions were asked by the audience. Some of those questions included; Do you always measure ingredients when cooking? Do you let your children help you? Do you try new recipes? Do you use spicy seasons? Does your husband do dishes? 5.  The Hostess Fashion Show where a hostess outfit was modeled that each contestant had created and sewn. "This is an event I am sure every homemaker would enjoy." 6. Grocery Shopping competition where An. paid $4.50 for a steak and her complete meal cost $6.96. "I prepared my favorite meal of steak, bake potatoes, lettuce salad, fresh green beans and my famous Appilcot pie."  7. Baked Dessert competition where many kitchen facilities were placed together, and our favorite dessert was prepared. An audience was present at this event as well. "Judges asked the contestants questions about what we were doing, and why, throughout this portion of the competition.  After I finished baking my Appilcot Pie, someone stole it. I was later informed that the workmen really enjoyed eating it."  8. Firemen's Dinner competition where the judges and an audience watched. Camp Fire Girls were the servers and helpers. 9. Creative Expression competition where An. talked about the Blind Center and the volunteer people of Nebraska. She presented one of her handmade dolls that was created for Nebraska. "One of the other contestants played and sang a song with pans on her knees which made the judges smile." 10.  Safe Driving competition where the contestants couldn't park the new red convertible between two police vehicles. "I felt bad about this area of competition until I learned that one of the other contestants ended up parking vertically."  11.  Flower Arranging competition where the judges said An used the cattle symbol for Texas.  "I should have used corn for my symbol instead. It was a very windy day at this event."  12.  Child Communication competition where An's child was very shy and would not even talk. "When I showed her how to make a rabbit out of a foam ball and chenille, she began to talk to me."  13. Luggage packing competition where contestants had to pack luggage belonging to another contestant. 14. Judges interviews. "My knees were shaking but my husband was as calm as could be."
The contestants also met the Mayor of San Diego-Mayor Curran and presented him with gifts from their state. "My gifts to him were steaks from Nebraska, an Admiralship into the Nebraska Navy, Keys to the City of Omaha, and a beloved statue from Boys Town. We also had a contestant gift exchange. Some of the gifts I received was a branding iron from Mrs. Wyoming, shirts from Mrs. Missouri, a package of wheat from Mrs. Kansas and pineapple and Guava jam from Mrs. Hawaii to name just a few."
The 51 contestants also had the opportunity to go to Sea World and see a trained whale, and to Lindbergh Field where they met Astronaut David Scott who shared his experiences during his time in outer space. At Mrs. America, the contestants also had pageant rehearsals and practiced for their big event. Fredricks of Hollywood served as the official make-up artists and hair stylists, and the Host was Bob Barker from the television show Truth or Consequences. While living in Nebraska, An's passion and talent were creating 31 "First Lady" porcelain dolls which are displayed at the Governor's mansion.
An. and her family, moved from Nebraska to Louisiana after her reign. Her beloved husband passed away in 1999. She moved to Santa Clara, California and taught a Fine Arts class and incorporated theater productions. Some of her musicals included Oklahoma, Oliver, and Bye Bye Birdie. Parents, volunteers, and students built and painted the scenery, made costumes and assisted throughout the entire productions.
After teaching for 34 years An. "retired." Today she still teaches Art to adults at Campbell Recreation Center, is a member of the Artist Colony and ATSC for all (online), serves as the Director of St. Martin Parrish Theater and loves trying new recipes and enjoy gardening.  An started drawing EcologyToon cartoons, along with writing and illustrating children's books, and LOVES spending time with her family and grandchildren.