Mrs. Nebraska 2002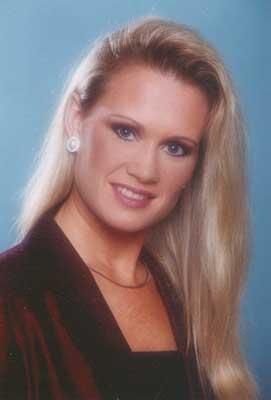 Sherri Ellsworth – Axtell, NE
I
n 2002, Sherri Ellsworth was fortunate enough to capture the Mrs. Nebraska crown.    During her reign,
her platform was on Breast Cancer Awareness.  When she was a little girl she had a mentoring friend,
through a church program.  This friend was a young wife and mother that lived in Sherri's town.  She
was her "pal" from 1st through 6th grade.  Even though Sherri grew up in a loving Christian home,  her
pal Donna was a wonderful influence in her life.  She took Sherri to the movies and out for ice cream.  
Being one of six children, it was a big treat for Sherri to have all the attention and her OWN tub of popcorn.  Before Donna was 30 she was diagnosed with Breast Cancer.  She spent many years trying different treatments and lost her hair many times.  Cancer took Sherri's friend Donna, when she was just 46 years old.
As an adult, Sherri wanted to do something special to remember Donna.  Donna was very quiet and loved to do things for other people in a silent, anonymous way.  Sherri created a scholarship in her honor.  This gift was given to students in 3 surrounding communities.  Each student that applied for the scholarship was selected based on an essay they wrote about mentoring.  
With the help of Tom Osborne, Sherri was able to raise enough money to fund the scholarship for seven years.  It was a big accomplishment that Sherri is very proud of.
As Mrs. Nebraska 2002, Sherri found herself in beautiful Hawaii for the national pageant.  She made many friends and to date still keeps in contact with several of them.  The titles also lead Sherri to many opportunities.  She was chosen to model for Carol Wior's swimsuit calendar, and also modeled in New York for the Spiegel reality edition, receiving many acknowledgements and engagements to speak and share her story.  "It has brought many amazing experiences to my life" Sherri says.
Since the crown, Sherri's life has changed quite a bit.  She and her husband, Jeff, welcomed two daughters into their family- Jasmine and Ella. They both love to cheer, dance, and perform.
In 2002, when Sherri was Mrs. Nebraska her boys were 5 and 3 and her boys enjoyed the crown as much as Sherri did.  They loved the parades and fun events throughout the state.
Sherri is currently running a cheer/dance business.  She has 112 students that participate in her recreational cheer program and have been able to perform their skills in front of many people.  Some of their biggest stages have been the State Fair and the Nebraska Danger indoor football games.  They also perform at nursing homes, community events, sporting events and parades.
Jeff and Sherri celebrated 20 years of marriage in May. "I really believe his support and encouragement along with my family helped me capture the crown. I am truly blessed and feel so thankful that I had the honor to be Mrs. Nebraska 2002." Sherri also volunteered her time to the Mrs. Nebraska Pageant by being the Choreographer from 2003 through 2007. Today, she is still involved by coaching pageant contestants
Click to view images