Mrs. Nebraska 2003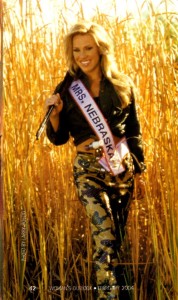 Olivia Nalos Opre – Sidney, NE
B
ecause her greatest passion is to educate the public about the important role hunters play as stewards of nature, Olivia's platform is to promote hunters as stewards of renewable wildlife resources. But she's not just a talker, she is a huntress, hunting big game in countries such as: Zimbabwe, Tanzania, South Africa, New Zealand, Mexico, Canada, and throughout the lower 48.
She recently established the Nebraska Panhandle Safari Club International Chapter where she currently serves as chapter president. She is also a measurer for Boone & Crockett, Pope & Young, Rowland Ward, and a Master Measurer for SCI. It goes without saying that she is involved with the hunting industry in many capacities.
This adventurous worldwide huntress found herself competing for the Mrs. Nebraska title because it gave her an opportunity to speak out on behalf of the international hunter, as well as allow her to empower women to strive for excellence through hard work, determination, eloquence, and grace.
As Olivia said in her voice-over for the state evening gown competition, "Nebraska gives me the feeling of freedom, and familiarity; it is the essence of family values, honesty, and hard work ethic. This is what our forefathers intended our country to be like, and I could only be so honored to represent Nebraska." Needless to say, she is a passionate woman who stands strong to her convictions.
Olivia and husband, Tom, have four active children.
Click to view images