Mrs. Nebraska 2014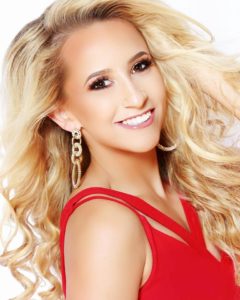 Amanda Reinert – Omaha, NE
P
roudly representing the married women of Nebraska and their fabulous families, I am Amanda Reinert. My husband, Brady, and our "mini-me",  Ava, live in Omaha, a city ranked as the #1 Best Place to Raise a Family in 2013.  Through my work as an IT Recruiter at Modis, I have the opportunity to get people through one of the most challenging things they'll do in their lives — make career changes! I help them believe in themselves and often quote "Do what you love and love what you do!"  One of my other passions is staying fit and I do that through kickboxing at my favorite gym. I am passionate about being able to help new students that enroll in the program achieve their goals, and work to become healthier versions of themselves.
Three years ago I enabled my parents to adopt a 4-year old little girl with special needs. She has changed my family's life and has allowed us to see the amazing value of foster care and that there are so many children that need a loving home.  We are now proud and grateful to say we are her adoptive family. It's been through this very personal journey that myself as an individual and my family became passionate about sharing our story with the people of Nebraska. It is my goal to educate people in this great state about the dire need for foster and adoptive families in our community and nation. Knowing that at any given time there are 400,000 children in the United States foster care system, it is my goal to open people's hearts and minds to a life changing decision that will change the course of a  child's life and enrich their own lives in ways they cannot imagine.  Through organizing fundraisers for the Nebraska Children's Home Society such as Sand in the City and Homegrown, I've had opportunities to spread the word on NCHS, who they are, what they do and how we can help.
I chose to participate in the Mrs. Nebraska pageant because like so many women, I wear the hat of a career professional, wife and mother.  In today's complex and ever-demanding world, it is easy to lose touch with who we are and what we really want out of life.  This experience allowed me to focus on my needs as at every level; physical fitness (because nothing is more motivating than being on stage in a swimsuit!), to feel beautiful in a gorgeous gown, and to be more in touch with who I am and where I'm going in life. I have learned through my participation in pageants and being in the Mrs. America system that I'm a better wife, mother and woman now than I've ever been. Taking the time to focus on myself was an essential piece of being able to take care of my family and career to the best of my ability.
Family life and related activity keep me going, but in those precious moments of leisure, I enjoy watching movies with my family, recreating my Pinterest finds and exploring the abundance the City of Omaha has to offer with my husband and daughter.
Click to view images.