Mrs. Nebraska 2015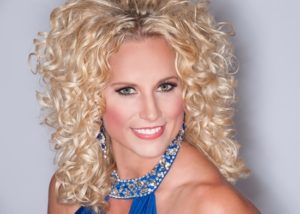 Erika Shelton – Lincoln NE
Top 15 at Mrs. America
T
his story is more than a fairy tale! It is a real life example of achieving a dream that started to help my cousin's daughter, Leyna, who was diagnosed with stage 4 Neuroblastoma. Throughout her fight and her families fight, we felt the need for an organization that could help other families in Nebraska affected by pediatric cancer. Together, my cousin and I confounded our nonprofit, Pediatric Cancer Action Network (PCAN). I asked a dear friend of mine to be on the board of PCAN who is very active in the Mrs. Nebraska/America pageant. She encouraged me to compete in the pageant, as it would be a great vehicle to bring awareness to PCAN. To say that the Mrs. Nebraska stage has been instrumental in the success of PCAN this year is an understatement! We have exceeded our goals and then some!!!
My husband Jayme has stood by my side throughout this journey, and his love and support are my biggest blessing. Growing PCAN and raising awareness for pediatric cancer research has become a passion that we share as a couple, and it has given our family a focus and purpose. Jayme and Erika have two beautiful children. Our daughter Evynn and our son, Thatcher.  I grew up in a small town in northeast Nebraska and graduated from cosmetology school in 2002. My parents taught me the value of hard work and tenacity, which I used to open my own salon eight years later. Eve A Salon & Spa in Lincoln, Nebraska has grown from six stylists stations to a virtual beauty warehouse. We now boast 22 employees, including hair designers, estheticians, and a massage therapist. "Eve" has consistently maintained a top ranking among the community, and was voted the best salon in Lincoln in 2013. Along with Eve A Salon & Spa, Jayme is a realtor with Banc Wise Real Estate in Lincoln. Jayme and I also own a residential property rental company. In November 2014, I furthered my budding entrepreneurship and opened the Black Swan Dress Boutique with two friends. Our first year is proving to be very successful! Bolstered by the salon and boutique's success, my husband and I continued cross-marketing across Lincoln. Recently, we opened the Fundamental Athletics Academy.
Our program teaches children basic sports skills while providing a safe before and after school environment! Outside of business, my other passion is giving back to my community. My salon has hosted several fundraisers for The Friendship Home of Lincoln, a shelter for victims of domestic violence. I also volunteer at Forever Angels, a local nonprofit that supports children with serious medical illnesses. Given that I experienced a similar situation with my cousin Leyna, this organization is very close to my heart. Forever Angels hosts an annual carnival in the summer, and delivers Christmas gifts to sick children in our local hospitals. Those events are especially meaningful and fun because my entire family joins the activities. My involvement with these amazing charities helped catapult my desire to start my own nonprofit to help other families affected by pediatric cancer. I am truly blessed to live in Nebraska, which is comprised of caring and hardworking people which has been the driving factor in the success of PCAN.
Click to view images