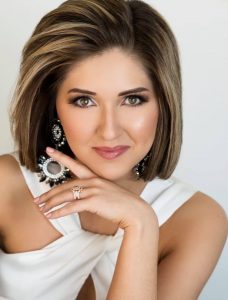 Lianna Austin – 2020
A
s the youngest contestant in 2020, Lianna Austin was honored to stand next to and compete with many accomplished women from across the state. Lianna is a former Miss Nebraska's Outstanding Teen and Miss Nebraska runner-up and graduated from the University of Nebraska-Lincoln with a double major in broadcast journalism, advertising, and public relations.
At UNL, Lianna volunteered with her sorority Chi Omega and worked as an intern for the National Foundation for Celiac Awareness (now Beyond Celiac) and KETV NewsWatch 7. During her last year of school, she worked full-time as a TV news reporter and producer, and shortly after graduating, she anchored and produced the weekend newscasts. Within two years, she successfully utilized both majors, and now works as the marketing coordinator for a Nebraska healthcare staffing agency.
The D.J. Hero is a recording artist, an American Idol Contestant, a Disney World Princess Finalist, and an 11-year 4-H'er. Lianna now serves as a 4-H judge across the state and volunteers with many organizations like the Nebraska Humane Society, Special Olympics Nebraska, and Wreaths Across America.
As the first Mrs. Nebraska American, Lianna is using the crown as a megaphone for her platform "Eat Well, Be Well".
For 10 years, she unknowingly suffered from Celiac Disease; and for more than a decade, she has adhered to a strict gluten-free lifestyle that has restored her health – truly proving the crucial link between diet and wellness. To date, she has traveled nearly 20,000 miles in communicating the incredible power to heal with every meal.
In 2019, Lianna and her husband Cory tied the knot in Rocky Mountain National Park. Lianna loves cheering on Cory at his national powerlifting competitions, and he enjoys stepping on stage with her. They are excited to travel back to their elopement location in Colorado and to continue making Omaha their home.